September 23rd-27th, 2018
Rediscover what you love about your work. Open to sustainability professionals across all sectors.
Only a few spots remain. Register now! 
---
Beyond Sustainability: A Workshop forProfessonals
Presented by Shadowcliff and the International Society for Sustainability Professionals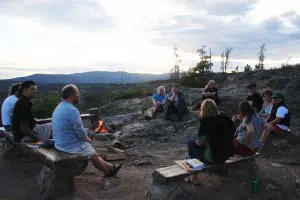 If your day to day work involves a focus on sustainability then this workshop is right for you. Come and experience new tools to elevate your work, the power of sharing a common experience with colleagues, an experienced and engaging faculty, and the reinvigorating connection to the very heart of why you do the work you do.
---
"I left this 'unconference' with a fresh perspective on my career and the challenges du jour at my work. I appreciated the deep networking that took place during three-hour sessions with other sustainability leaders, and the secondary emphasis of connecting back to our passion for sustainability the event included (our personal 'why' if you will).  The Beyond Sustainability event was a welcome change from larger conferences featuring panels and keynotes."
– Jeff Yorzyk, Director of Sustainability, Green Chef
---
Program
Programming includes creative thinking and discussion about sustainability issues that can only come from connection through hiking and other field-based adventures:
Mindfulness as a tool to reconnect you to the heart of your work with Margit Hentschel of the Center for Mindfulness, Colorado State University;
Authentic leadership skills and practice with Deb Kleinman of Lupine Collaborative;
Innovative and effective stakeholder engagement with Michelle Finchum, City of Fort Collins
Exploration and discussion of sustainability professionals with ISSP Board Member Rosalinda Sanquiche ;
Hands-on work understanding the circular economy with Harvey Stone;
Getting outside to explore the Laws of Nature Trail, Rocky Mountain National Park, and Grand Lake;
Yoga and other reflective activities;
All of this gets you 3.5 CEU's approved by the ISSP!
View the 2018 Beyond Sustainability Participant Schedule
All registrants will receive a survey prior to arriving so that we can be sure your experience will be as meaningful as possible. Set in Grand Lake on the western side of Rocky Mountain National Park, the beauty and grandeur of the area will inspire you while informing your experience.
We believe in the power of this event, but don't take our word for it.See what one 2017 participant had to say on the blog Slow Down and Smell  . . . the Pines?
---
 Accommodations and Dining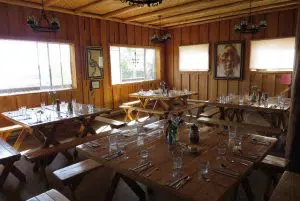 Shadowcliff's buildings were built by the hands of 650 volunteers from 42 countries over the course of 30 years, from the 1950's to the 1980's; a tradition that lives on today during May, our volunteer month. You'll get to soak up these lovingly built rustic spaces as we meet in The Center for programs, share a meal in the Compassionate Kitchen, enjoy time around the fire pit, and spend the night in either Rempel or Cliffside Lodge, both of which feature shared bathrooms with private showers. Sharing a spacious room with another attendee, while a new experience for some, brings another level of connection to the experience. A limited number of single occupancy rooms are available for those who require that accommodation. Learn more about our rustic accommodations here. All rates include meals prepared with care sourcing local, seasonal, organic food as best we can.
---
"What I enjoyed about attending Beyond Sustainability was to be in an informal mountain setting that facilitated fantastic dialogue with like-minded colleagues. As opposed to a conference, Beyond Sustainability designed sessions to be longer to have more thoughtful conversation and collaboration among participants. The mountain setting provided a wonderful environment to really reflect."

– K.J. McCorry, Sustainability Consultant, eco-officiency 
---
"I attended Beyond Sustainability at a time when I was transitioning my career and I was seeking a tribe, and a place where I could retreat and go deeper in knowledge and awareness of my place in sustainability.  That is exactly what I found at Shadowcliff.  The place-based aspect of this retreat had a strong impact – we had the opportunity to be in nature and observe and explore the affect of our actions on the ecosystem.  The setting, the content, the people, and the food all contributed to a truly memorable and life changing experience." – Aurora Dawn Reinke, Founder/CEO Astrapto LLC
Pricing
Price includes four nights lodging, all meals, and all programming costs. Double occupancy is assigned by Shadowcliff unless two people register and request the other as their roommate. We have a very limited number of single occupancy rooms.
ISSP Members
$650 double occupancy
$850 single occupancy: limited number of rooms available!
Yes, ISSP members get a discount. Interested in becoming an ISSP member? Learn more here!
Non-ISSP Members
$800 double occupancy
$1000 single occupancy: limited number of rooms available!
Local's Tuition (Grand County residents only- no accommodations)
$525 for the whole workshop
$100 for a single day
$25 for Sunday networking