By Patricia Saenz, Beyond Sustainability Participant
Article originally appeared in the ISSP Email Newsletter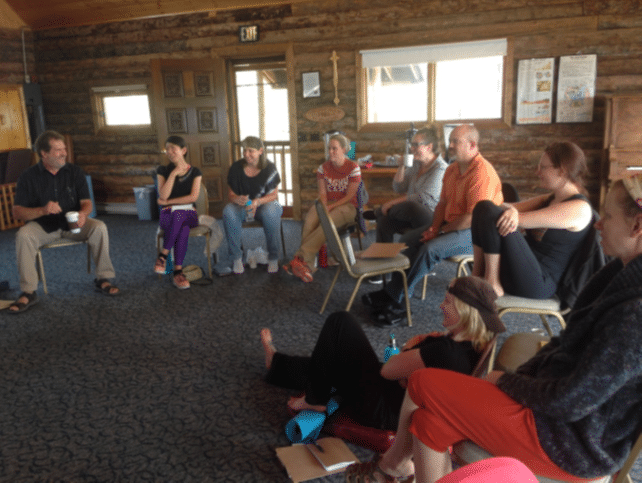 An email from ISSP came across my inbox about a sustainability workshop in Colorado. The name of the event should have been a clue that I was not going to attend a seminar session on the latest reporting tools or discuss gubernatorial setbacks. Beyond Sustainability was consciously designed to ground us not only as professionals, but also as mindful individuals who need to look each other in the eye.
The stage for Beyond Sustainability was extraordinary. Shadowcliff Mountain Lodge, a non-profit eco-mountain retreat center with amazing views of Grand Lake became our classroom. We hiked, we learned about the Laws of Nature, we cruised Grand Lake, we practiced yoga and meditation, we visited Rocky Mountain National Park and saw moose, elk, bears and the most amazing sunset through the mountain peaks. We slowed down. We smelled pines. We connected with nature; the same nature that motivates us all to be in sustainability.
"That's it?" you might ask. Of course not! Our wonderful faculty had us on a full schedule. We learned about leadership, Appreciative Inquiry, Circular Economy, the local sustainable goals of Grand Lake Chamber, and the ISSP certification and benefit of credentials… and then we learned from each other. We were people from different backgrounds who shared stories, who asked questions about each other's efforts, and who listened.
At the end, we all felt recharged and ready to go back to work. We will take the smell of the pines with us.
The entire Shadowcliff Mountain Lodge staff, volunteers, and Beyond Sustainability workshop facilitators thank Patricia and the other many wonderful participants. It was a truly magical experience that genuinely moved us all beyond the typical sustainability discussions. We can't wait to host similar events in the coming seasons.
For more information about hosting your group, workshop, or retreat at Shadowcliff, please
contact us
!