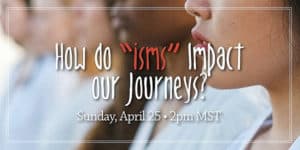 There are many ways that labels, prejudices and stereotypes create barriers between us and affect our journeys. We see these in our society, our workplaces, and in ourselves.
Shadowcliff
has always prioritized space for refuge, reflection and healing — and we believe that exploring these challenges (or "isms") in community with one another is a healthy step in creating positive change from the inside, out.
This Communiversity session is a joint effort with
Shadowcliff
's Diversity, Equity & Inclusion task force and will be co-facilitated by Ivy Summer and Ariana Friedlander. Conversation and interaction will be encouraged, (so be ready to share!) but we also expect all participants to come prepared to listen with openness and respect. Please join us by registering online!
How "isms" Impact Our Journeys
Sunday, April 25. 2pmMST