Shadowcliff is a nonprofit organization. Our mission: Shadowcliff is an eco-friendly mountain sanctuary where together we are creating a climate for a restorative world. We work hard to meet our mission in virtually everything we do: workshops, our compassionate kitchen, hosting educational groups, and providing educational information and materials to all of our guests. We try to talk the talk and walk the walk by minimizing our footprint however and whenever we can, by reusing, recycling and making the best decisions we can when it comes to purchasing supplies and equipment. We owe this to our future generations.
Shadowcliff was built by volunteers and sustained over the years by volunteers and generous donors. The spirit of volunteerism is alive and well at Shadowcliff. This occurs not only through the many volunteers who provide valuable time and service to Shadowcliff but our staff continue to volunteer in many ways in and around Grand County and their home locations. As a nonprofit,  Shadowcliff remains dependent upon the generosity and support of our volunteers and donors. That isn't going to change.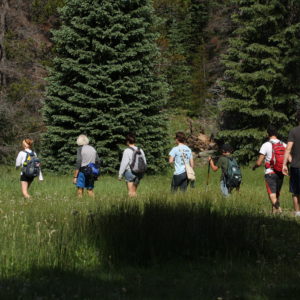 We are currently recruting volunteers and staff for the last few weeks of our season. Come join us: work for us and play with us. It's the best time of the year to visit. If you are interested, contact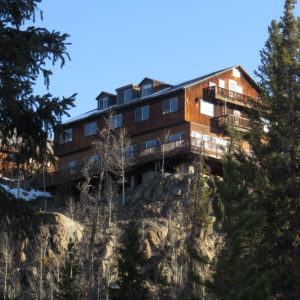 carl@shadowcliff.org as soon as possible.
Here are some of the many other ways that you can help us: 
Stay with us. We promise to make your Shadowcliff experience one you will never forget. Reconnect with nature or just relax—we will make it easy for you. Bring your friends, your retreats or reunions. But don't delay, our season ends in late September.
Support our Workshops and Programs. Each season, Shadowcliff hosts a wide array of workshops and outdoor and recreational activities. Our world class Sustainability Series of workshops was among the first workshop series anywhere to address important issues of sustainability. Our eco-friendly family vacation program is designed for fun, education and building those bonds among generations. Our trail running retreat gets you out in the wilderness to enjoy the sights and sounds of nature. We welcome your participation in and and all of these activities and your spreading the word among your friends, families and colleagues. Help us build those bridges.
Make a donation. You can make a contribution to our general fund to help underwrite our operations, maintenance and repair. You can also donate to support our Shadowcliff Laws of Nature Interpretive Trail to be completed this season to honor former directors Bob Mann and Judith Christy.
Support our Friends of Shadowcliff program. This year, we are combining our Friends of Shadowcliff program and our annual campaign. Our Friends are able to make their cabin and lodge reservations before the general public. Our annual Friends of Shadowcliff campaign will kick off in mid-October this year. Your support is greatly appreciated.
Make a legacy gift. What has Shadowcliff meant to you or your family? Consider making a legacy gift through your estate planning—a gift that can leave an impact for many years to come. We can help you get started, just ask us.
Become a Shadowcliff volunteer. Last year, Shadowcliff volunteers contributed more than 1400 hours of service in May alone. We need volunteers throughout the month of May to help us prepare for the upcoming season. Volunteers can also help us during the season, especially when a large group is visiting. If you have a weekend or more, and you'd like to help out, let us know. We can also use help in September as we prepare to close for the season.
Consider Becoming a Part of the Shadowcliff Board or Board Committee. Do you have what it takes to serve on the Shadowcliff Board or as a Board Committee member? We would love to visit with you about that. Currently, the Shadowcliff Board has several committees: facilities, development, marketing, programs, finance and board development. If you have an interest in any of these areas, or just want to learn more, contact us.
Help Us Spread the Word About Shadowcliff.  You are our most powerful source of new business and opportunities. Tell your friends and associates about us. Like us on Facebook, give us a positive review on places like TripAdvisor and FlipKey. Your kind words help bring people to us—as guests, volunteers, Board members, donors and like so many of you, life-long friends.  A few kind words from you can go a long way!
Stop Using Plastic Water Bottles. Yes, we know that this simple act helps all of us and not just Shadowcliff. It's such an easy thing to do, and it will make a big difference.
Tell Us What You Think. Your thoughts, ideas and suggestions also make a big difference. We want to hear from you. How can we make your Shadowcliff experience better?
      Thank you for all that you do for us. We'll do our best to continue to return the favor to you.