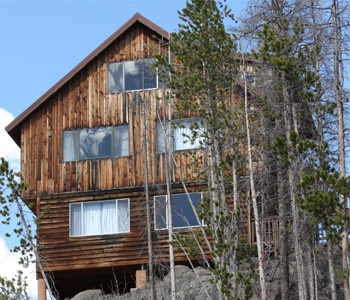 "Grand Lake is one of my most favorite places in Colorado and Shadowcliff is the best place stay when I am there. It is family friendly, in close proximity to town, and offers relaxation in progressive atmosphere. If you're in the mountains to enjoy the views, wildlife, and trails Shadowcliff is the place to use as base camp."
A lodge with 7 guest rooms, 4 bathrooms, a large guest kitchen, and a third floor lounge, this is a great place for single room reservations or a private group experience.
Room rates: $85 per night for up to 2 adults ($15 per night for each additional adult)
Cliffside Entire: $695 per night (max 25 adults)
"My family and I came to Shadowcliff for a weekend. The view is astounding and we ended up eating our morning meals on the deck overlooking the view. It is not an extravagant place, it's just a nice down to Earth homey lodge where you can take a breath and enjoy the beauty of the mountains."
The main lodge with 9 guest rooms, 2 large bathrooms, a small guest kitchen, and a lounge with library and large hanging fireplace, Rempel is a wonderful home base for your journey.
Room rates: $85 per night for up to 2 adults ($15 per night for each additional adult)