It's been said that those who do charitable work, "punch the time clock with their hearts."
Well, rarely are there clocks. Or even calendars. Case in point, no one can quite remember when the HIV Retreat at Shadowcliff, first started. It's just something that's been part of the programming, for a long time.
Some believe it started in 1991. Shadowcliff founders Pat and Warren Rempel had a son, Scott, who was an early victim of the AIDS virus. He died in 1989. Soon after, they decided to do something to honor him.  The Rempels remembered their own experience with Scott and thought, "wouldn't it be nice if people had a weekend getaway in the mountains – a retreat to get away from a pretty horrible time."
Soon it was, "why wouldn't we do this?"
Michael Makes it Happen
The Rempels decided to host a retreat for HIV-positive people, providing the entire facility exclusively for a weekend. Michael Dorosh, now a Board Member at Shadowcliff, first came as an attendee of the retreat. "At the time, everyone just got sick and died," Michael said. "It happened pretty quickly and life suddenly turned pretty bad." The Rempels ran the retreat for a time, and then turned over the direction of the retreat to other people. There were a series of partnerships and co-directors over the years before Michael became the main driver of the event. He is responsible for sales, marketing, and program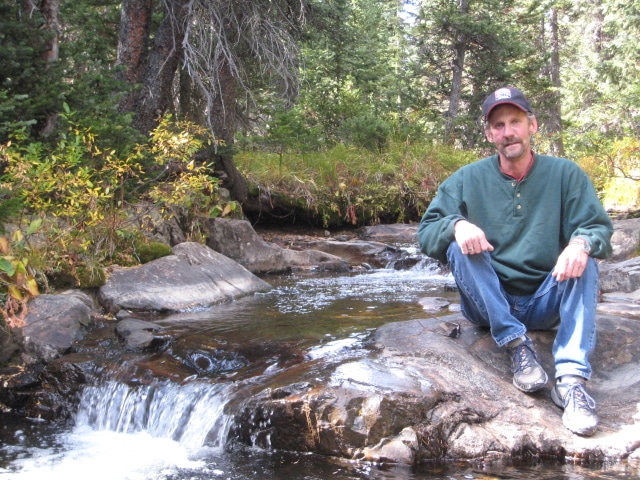 planning. He acts as accountant, fundraiser, and concierge. He is even known for moving chairs between sessions in the chapel. Recently, he experienced complications from hip surgery and worries that his involvement with the 2015 event might be affected. So, he's motivated to get better, in a hurry.
Over time, as the disease evolved, so has the retreat. The weekend is more than a reasonably-priced, Mountain getaway. It's a holistic experience combined with seminars on the latest medical information and alternative therapies. It's staffed by a doctor from the University of Colorado, internationally known therapists and other volunteers who offer energy work, massage, acupuncture, chiropractic, Yoga and meditation as part of a full program.
A Safe and Inclusive Environment
"The HIV retreat leans right into the human aspect of our mission for collectively creating a climate for a restorative world," says Hillary Mizia, Shadowcliff's Executive Director. "Sustainability is as much about restoring thoughtful human connection as it as about environmental impact. Our long standing and heartfelt connection with this group is something we deeply cherish and look forward to fostering over many years to come."
The retreat is open to all adults living with HIV regardless of gender, race, ethnicity, national origin, creed, sexual orientation, gender identification, religion, age, employment status, socio-economic status, or health status. Each retreat is limited to 40 participants and 10 volunteers. Tuition is purposely held low and includes all three days' lodging, meals, activities, body therapy, education, discussion groups and even a talent show.
One of the discussion groups, held around the campfire is entitled Sex, Dating and Disclosure. "It's a hot topic, because it's not something that people living with HIV feel comfortable talking about," said Michael. "Practitioners, case managers and clinicians, all avoid it. They don't want to talk about it. But, then when the attendees get to the retreat, they can talk freely and candidly about it."
Treatment Educat10n Network
Michael is part of a non-profit called Ten: Treatment Educat10n Network whose goal is the sharing of knowledge and experiences about living well with HIV – not just longer. Their main programs consist of the HIV Retreat at Shadowcliff, a quarterly newsletter, and monthly educational forums where they provide a meal and a speaker. You can find more information here.
The retreat is a labor of love for all those involved and provides a welcome respite from the reality of the disease.
It's no longer about dying of AIDS, it's about living with HIV.
Jay Liebenguth is a business journalist focused on gaining insights from talking with business leaders and sharing their stories with his audience. He produces and hosts two radio shows each week to introduce you to some of the rising stars in the business community and to expose you to new and proven concepts from people who have "been there, done that." His format provides visibility, credibility, and direct "why to buy" publicity for his guests. He interviews over 250 people per year, most in a live, unedited setting.
Jay has been an active member of Shadowcliff's marketing committee since 2012.