Authentic. Welcoming. Making friends. Diversity. Opportunities. Safe. Clean.
These were all words used to describe Shadowcliff last spring by the eight participants of Experience Shadowcliff. Originally designed as a way to connect Shadowcliff with people who have a group they may want to bring up for a retreat, workshop, or event, this engaging weekend has turned into something more.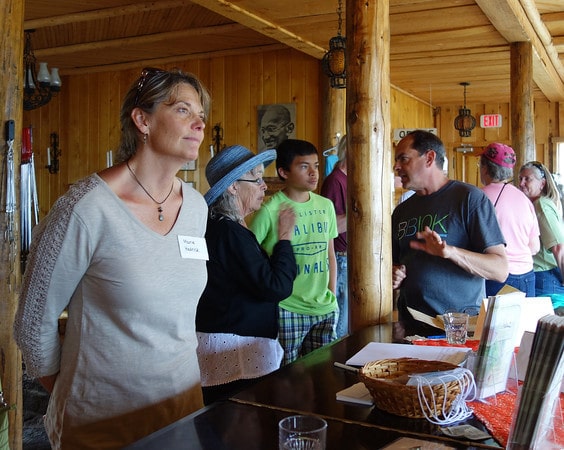 Beyond networking and larger than just programming about who we are, Experience Shadowcliff has become a gathering of those who are drawn to both the unique character of who we are and want to learn more, and to the prospect of finding partners in their work. We've found that people feel a kinship to those they meet at an Experience Shadowcliff weekend. Conversations happen, connections are made, experiences are shared. When people gather at Shadowcliff, whether they know each other or not, friendships and alliances are forged. These bonds are simultaneously relevant beyond the grounds of Shadowcliff and have the power to help us with our mission of collectively creating a climate for a restorative world.
All of this is bigger than what we had planned for as the outcome of this weekend, and at the same time a perfect example of why coming to an Experience Shadowcliff weekend is truly a way to experience Shadowcliff. Some call it magic, some relate it to the humbling nature of being on the western side of Rocky Mountain National Park and on a cliff above Grand Lake, and some connect it to the heart forward way Shadowcliff was created (a legacy that I strive to uphold), but everyone agrees there's something special about group events at our lodge.
Next season Experience Shadowcliff dates will be available soon. No longer invite-only, those interested in coming to this deeply discounted weekend should fill out the application here on our website. If you are interested in experiencing who we are and how we can be a partner in your work, meeting new people beyond those in your professional sector, or finding a new, meaningful place for your group retreat, workshop, or event, I encourage you to come. We eat, we talk, we relax, we hike. We connect. And I hope you'll be there.
Hillary Mizia
Shadowcliff Executive Director
Interested in Experience Shadowcliff 2016?