For nearly two decades The Lighthouse Writers Workshop, a not-for-profit 501(C)(3) organization, has hosted a multi-day writers' workshop at Shadowcliff Lodge. Lighthouse is the largest literary arts center in the Rocky Mountain West, providing quality instruction and artistic support for writers and readers of all levels, ages, and backgrounds.
Both Lighthouse faculty and workshop participants find retreat and connection as they explore, write, and share their experiences embraced in Shadowcliff's natural beauty. Roger Thomas Wehling is a frequent participant in Lighthouse's Shadowcliff workshops and has graciously consented to share one of his recent reflections from the Lighthouse/Shadowcliff experience this summer. Roger's 2015 collection of poetry, The Raveled Road includes several other pieces which have grown from Lighthouse Workshops at Shadowcliff.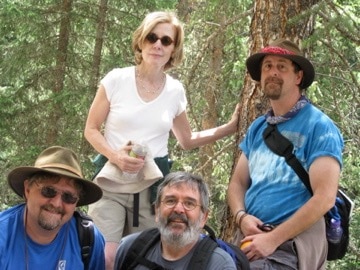 Essay in Poetic Form
Further Grand Lake Reveries
All poetry is translation—
The ineffable presented
Through imperfect words.
And like all translation
Impossible
And urgently necessary.
To be a Lighthouse writer
Assumes the responsibility
To shine light
Into deep crevasses,
Reflect the sky,
Sun and stars into every
Dark corner.  
For years now
Some of these writers have assembled
In buildings rustic
But not ramshackle
To ponder the crows
Over the lake
Or the swallows' hectic dance
Beyond the balcony,
To gush
Over the rushing river
So near its goal.
Each night they gather
To hear each others' creations
From the infinite paths
That lead from a single trailhead.
The very air seems to gobble up their words—
This is what the world needs
These words, these voices
Tales of woe and forgiveness
Of laughter and love.
Sometimes the thunder echoes
Through the night sky
with its applause.