2020!  Much Gratitude to the Shadowcliff Community!

(Note: This communication was scheduled to be sent the week the East Troublesome Fire broke out. Seems more appropriate than ever to send it now!)
We are so grateful to our Shadowcliff community, our volunteers and staff who kept Shadowcliff's operations and spirit afloat during to offer a "mini-season" this summer. Thank you so much to those who booked the cabins, volunteers who opened & closed, and staff who made it happen!
General Manager, Emily Cesca, summarizes the experience beautifully:
"Going into this season was a lot like going into my first season at Shadowcliff - a giant leap of faith. The qualities that caused me to fall in love with this place and this community that first year were the very qualities that helped us overcome what initially felt like an insurmountable challenge: good people, coming together, with love in their hearts, willing to do whatever it takes to get us through; to keep the magic of Shadowcliff alive. My deepest heartfelt gratitude goes out to all those who helped us this season. A special thanks to Alanah and Brandon for their hard work, adaptability, integrity, and good humor, and to Kathy for trusting in my abilities when I wasn't so sure I could trust in them myself."
Fun Fact:  Shadowcliff cabins were 100% booked through-out the summer, serving approximately 150 people in 90 days!
Caleb, Shawn, and Adrian install a new stove in Cliffside Lodge.
Alanah served as one of our small staff this year, helping Shadowcliff to remain open and keep our guests safe!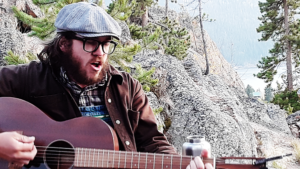 Brandon inspires us through folk to always have hope and see beauty in the world.
Quotes from our Retreatants this year:
"Many thanks to the Board and staff for brainstorming and implementing how to open this summer - even partially."
"Thank you for providing us with a safe place to stay. The fresh mountain air gave us the opportunity for renewal, and I feel very fortunate to have been able to have a summer vacation with my family during this impossible time. Our plan is to come back every summer - we are a Shadowcliff family."
"So glad the cabins were available to rent. Also enjoyed your programs on zoom."
"Especially with contactless checkin and checkout, a Shadowcliff cabin stay is pretty much an ideal way to vacation super safely and comfortably in a beautiful and inspiring setting."
"We are hikers and we very much appreciate being able to walk to trailheads from our cabin!"
"We woke up on the second morning to find a family of deer romping around behind our cabin: Mother, Father, and several fawns. They came right up to our windows and were very content to hang out with us as we had our breakfast."
"I find Shadowcliff to be a very relaxing and also a very spiritual experience for me each time I am there."
"We hiked the North Inlet and Tonahutu trails, and we always enjoy hearing the hummingbirds buzzing around while sitting on the deck." 
William Hoye, age 7: "My favorite experience was seeing the moose just lying in the grass next to the trail." 
It seems so long ago now! In case you missed it in June, enjoy this video from our June opening!