Register for These Events Today!
We're looking forward to gathering with you for our second Virtual Volunteer Weekend! A LOT has happened since May 2020, and we can't wait to share with you what's going on in Grand Lake and within Shadowcliff as an organization.
Below are a few online offerings that you can register for to connect with the Shadowcliff community and learn from our Board of Directors.
Friday Night Happy Hour • May 28, 5pmMST
Join board member Kelly Yarbrough and other hosts for a fun, informal happy hour to connect with each other! Now that we've had a year to learn Zoom, be ready for some interactive activities...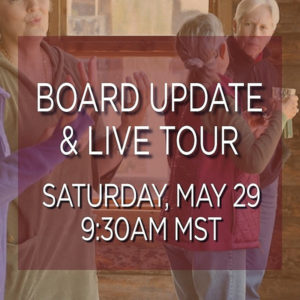 Board Update & Tour • May 29, 9:30amMST
Learn from our Board of Directors what's been happening this past year, as well as what we can expect from 2020 and beyond!  general Manager, Emily Cesca, will also give a brief live, on-site tour...as long as the internet cooperates!