Last week Robert Charles Gipson, father of Shadowcliff Board Member Calvin Gipson, passed away. Calvin shares this writing about his father with our Shadowcliff community to honor his father, to underscore the impacts of social injustice, and to demonstrate the healing power of community and the natural world. Thank you for sharing these insights with us, Calvin!
_______________________________________
Calvin writes: 
My father died of a heart attack on Tuesday at the age of 84-years old.

My mom and dad are from a small town, Oak Grove, Louisiana, where race segregation was practiced when I was a child. I remember how my dad dealt with racism in the Deep South – smile, strike up a conversation, and have a good sense of humor.
He never spoke about the negative aspects of racism, but believed that if you interact with a person you can disarm them and
make friends. He was confident, bold and fearless. He believed that Hell is our life on Earth and that all good people will be fine after death.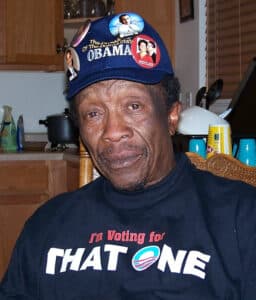 My father felt it was vital to stay informed about world events. I grew up reading the newspaper everyday because of my dad, which inspired my interest in politics and activism for marginalized people. He also encouraged me to open my mind and don't blindly accept what preachers teach.
My dad took us on road trips – lots of trips to the mountains and National Parks. I discovered the beauty of nature through my father, which ultimately led me to this opportunity at Shadowcliff.
Thanks so much for the warm thoughts. A big hug of appreciation to those who have reached out to me. My sister Denise, my step-Mom Dolores, and our family are moved by your expressions of care.
Spread love!
Warmly,
Calvin