A Warm Welcome to Shadowcliff's Newest Advisory Council Member, Richie Nelsen!
Richie has worked in the field of Information Technology for over 15 years and currently serves as the IT Director for Colorado State University - College of Business. He has a passion for environmental stewardship and conservation. This has led him to co-found Gaia Environmental Consulting, whose mission is to promote environmental responsibility and sustainability through the implementation of policies, practices and methods. Richie hopes to help Shadowcliff visitors with safe and reliable access to the internet when they are not connecting with nature, meditating, self reflecting, rejuvenating, or learning and growing. 
Richie visited Shadowcliff this week with his wife, Erin, and his son, Jasper. During his stay, he performed an audit of our current internet connectivity and will provide a set of recommendations to help us determine appropriate upgrades for 2021 and beyond.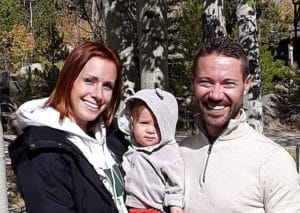 Along with the Board of Directors, Shadowcliff is fortunate to have a small group of volunteers who advise us on an as needed basis. Advisors offer specific skills and expertise when we need consultation or for special short-term projects.
Click here for the full list of our current advisors. 
You'll see there is a wonderfully wide variety of fields of expertise already available to us. However, the needs and projects change and evolve. Right now, we would love to add skilled support in the area of
insurance
, and also with regard to
social platforms & media technology.