A Welcoming Season on the Horizon!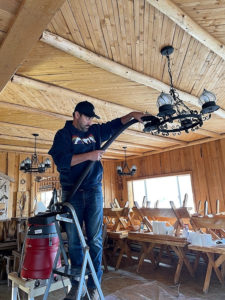 We are all so grateful that Shadowcliff was spared from the flames of the East Troublesome fire last October. The fire approached within feet of the Riverbend cabin. Unfortunately, the smoke and heat associated with the fire left behind unsafe soot and particles in all of our buildings.
To help manage the immense clean-up project, the Shadowcliff Board of Directors engaged Claims and Construction Management Group (CCMG), to assess the damage, test for smoke particulates, estimate the needed hours to clean the property, and work with our insurance company to negotiate our insurance claim.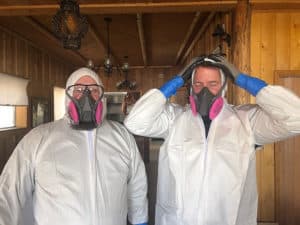 CCMG crews spent the month of April performing fire restoration services for all Shadowcliff buildings. Before the surface cleaning process began all mattresses, linens, and drapes were removed and taken for dry-cleaning and laundering to remove any soot and smoke smell. All smoke damaged insulation was removed and replaced with new insulation. The restoration crew then used a machine called an Ozone Generator to break up all soot particles, followed by cleaning all surfaces with a HEPA vacuum – making sure that all loose particulate and soot was removed. After vacuuming, all surfaces were wiped with chemical sponges and organic, bio-degradable wipes to remove any remaining particles and to fully clean the surfaces.
Thank you, CCMG, for your help in preparing Shadowcliff for a safe and welcoming 2021 summer season!  
Following these efforts, all during the month of May, Shadowcliff volunteers will be on site to help with other repairs and preparations for guests to arrive starting Memorial Day weekend. Look for another update soon...