Photo of the autumn aspens courtesy of Kerry Herndon. 
Shadowcliff Closes for the 2021 Season
Guests departed,
staff traveling on to new adventures,
volunteer time lovingly given,
rooms cleaned,
 laundry done,
 refrigerators emptied,
supplies centrally gathered,
outdoor signs and benches stowed,
the cross to winter in the Chapel,
a final recycle run,
the phone and mail forwarded,
water drained and electricity turned off,
Emily's checklist checked & double-checked,
….then the doors are boarded,
and so it goes… the 2021 season complete.
Rest well Shadowcliff. See you in the spring!
Heartfelt gratitude to ALL!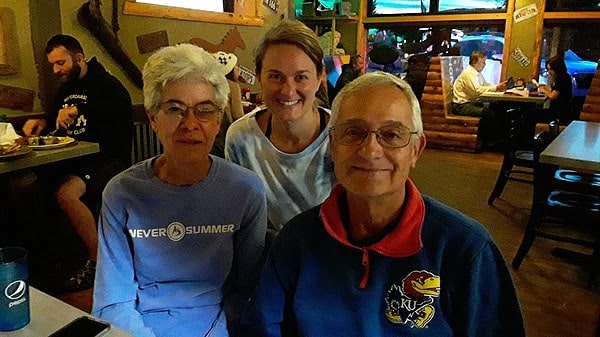 Special thanks to longtime volunteers, Kerry & Steve Herndon, whose help in closing out the season was immeasurable. (Kerry and Steve pictured here with Shadowcliff General Manager, Emily Cesca.)