The People of Shadowcliff
Ariana Friedlander- Chair
Ariana Friedlander, MPA is a community organizer, a social entrepreneur and the Founder of Rosabella Consulting, LLC. She works with leaders doing business as UNusual. Ariana specializes in fostering positive change in an organization's culture so it remains relevant in the 21st century. Ariana received the 4th Annual Quid Novi award for Innovative Thought for EntrepreNerds™.  She has her Master's in Organizational Leadership from the University of Delaware and her BA from Hampshire College. Ariana lives in Fort Collins, CO with her husband and daughter.
Eric Ziegenhorn- Secretary
Eric is a real estate attorney from Kansas City and acts as the official liaison with Bridging the Gap's board of directors. He is an avid downhill and cross county skier, mountain biker and gardener. On the political front, Eric is actively involved with environmental groups emphasizing wilderness preservation and food sustainability.
Larry Leblang - Treasurer
Larry's career path has included roles such as General Manager and Director of Finance for a number of organizations, primarily in the non-profit community. He holds an M.P.A. (Masters of Professional Accountancy), a B.A in Philosophy, and has been licensed as a C.P.A. His spiritual practice has embraced both Eastern and Western mysticism for the past 50 years. One of his favorite activities is getting outdoors for spiritual retreats and connecting with nature. His current writing project endeavors to utilize a "spiritual science fiction" format to support "compassion and healing" within individuals and the larger community.
Michael Dorosch
Michael Dorosch is a retired small business owner who spends a lot of time volunteering. Since 2004, he has been Director of the annual HIV Retreat at Shadowcliff, started over 20 years ago by the founders of Shadowcliff. Michael serves on the Board of Directors of Treatment Educat10n Network (TEN). Its programs include the HIV Retreat, monthly Community Educat10nal Forums, and so much more. He also serves on the Colorado State ADAP Advisory Committee and the University of Colorado ACTG CAB. Nationally, he is involved in the Drug Development Committee of ATAC and the Global Community Advisory Board of the ACTG. He enjoys camping and skiing and spending time with his best friend Skylab "Sky".
Doug MacClaymont
Doug is a Manufactures Representative specializing in electronic test and measurement equipment. He lives in Olathe Kansas. Doug visited Shadowcliff for the first time 20 years ago and has been coming back ever since. He enjoys volunteering and the opportunity to be a small part of an amazing place. He encourages everyone to come and experience Shadowcliff as a guest a volunteer or both. When Doug is not volunteering, you will find him bushwhacking and backpacking Rocky Mountain National Park.
Brian Murphy
Brian is an engineer specializing in water issues and lives in Denver, Colorado. As another relative newcomer to the Shadowcliff Board, Brian brings a wealth of information to Shadowcliff regarding water issues, an important topic for Shadowcliff workshops and an integral part of the Shadowcliff history. Brian is a former staff member. He and his wife Kara (also a former Shadowcliff staff member) were married at Shadowcliff.
Sue Rempel
Sue Rempel spent almost every summer of her childhood and adulthood with her family in Grand Lake- first building Shadowcliff. She lived and volunteered at Shadowcliff through college; it has always been an integral part of her life.  After several years of not being able to be in Grand Lake in the summer, she is looking forward to offering her support to the future of Shadowcliff as it also holds the vision and commitment that Warren and Patt Rempel held as they built each building- their dream and their life's work. Sue is a hospice nurse and now lives in Santa Fe, New Mexico with her family. She has 2 beautiful adult sons, Alexander and Nicholas, who grew up spending summers in Grand Lake, sharing many of the same experiences she had as a child.
Skelly Warren
Skelly, a retired theatre professor, was recently elected to the board. His 1972 connection to Grand Lake and ultimately Shadowcliff was the Rocky Mountain Repertory Theatre. His wife, Judith, and he revived the theatre in 1995; after retiring from that they were delighted to serve Shadowcliff as managers from 2007 until 2013. His love and commitment to Grand Lake, Shadowcliff, and the natural beauty surrounding them has brought him to the board. His staff experience and knowledge of the town of Grand Lake will make him a valuable resource for the board.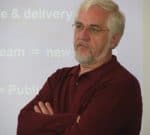 Terry Woodbury
Terry discovered Shadowcliff's magic on a week-long retreat with 40 members of his Kansas City congregation in 1976.  Six of those individuals have since served as managers, staff or on the board.  He designs and facilitates processes that change an organization's or community's culture, and coaches CEO's through organizational transition.  He and Eldonna have 3 children and 7 grandchildren.  They divide their time between a western Kansas ranch and Denver.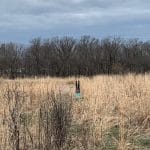 Kelly Yarbrough
Kelly Yarbrough Frasier has been in the Shadowcliff community since 2009, first as a Summer staff member and volunteer, now as a member of the board. Kelly is an artist and program coordinator based in Manhattan, Kansas. She works with Prairiewood Retreat & Preserve, manages the Tallgrass Artist Residency, and enjoys serving her Kansas Flint Hills community through a variety of organizations including Friends of the Konza Prairie board, the Manhattan Arts Center, the Kansas Creative Arts Industries Commission, and the Flint Hills Tourism Coalition. Kelly met her husband, Kevin Frasier, at Shadowcliff in 2013. She enjoys dogs, trail rambling, and occasional headstands in the prairie.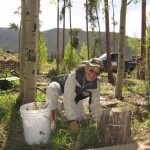 Judith Christy
As a former co-director, Judith brings a wealth of Shadowcliff history and expertise to the Board and staff. She has played a key role in developing Shadowcliff's food philosophy and Compassionate Kitchen and continues to provide guidance in many Shadowcliff operational issues.
Randy Friesen
Randal Friesen, Architect – Randy first came to Shadowcliff at age 7 in 1962 and has been actively participating on a regular basis since moving to Denver in 1980 after graduating from KSU.   Randy participated on the board with founders Warren and Patt Rempel, working through the transition of SC to non-profit status and new directors Bob and Judith Mann.  He has been very involved in facility upkeep, and redesign/ remodeling processes through the years. To Randy, Shadowcliff embodies the 'spirituality', and helps foster the stewardship of, our beautiful earth, and he hopes to continue to strengthen that ethos.
Bill Lepentis
Bill Lepentis - designer, professor, strategist and researcher. He has over 25 years in the architectural design, master planning, and construction management industry. His projects include social change initiatives and innovations involving the elimination of homelessness and poverty. Bill's thesis work and concentration included innovations, services, environments and products involving play-based learning for early childhood education. The last five years has seen Bill's design practice evolve into a design research and strategy consulting firm; linking traditional practices with new, human-centered design approaches, helping companies and organizations grow and succeed.
Jay Liebenguth
Jay Liebenguth is a business journalist focused on gaining insights from talking with business leaders and sharing their stories with his audience. He produces and hosts two radio shows each week to introduce you to some of the rising stars in the business community and to expose you to new and proven concepts from people who have "been there, done that." His format provides visibility, credibility, and direct "why to buy" publicity for his guests. He interviews over 250 people per year, most in a live, unedited setting. Jay has been an active member of Shadowcliff's marketing committee since 2012.
Bob Mann
Bob is a retired co-director of Shadowcliff. He continues to develop and inspire Shadowcliff programming with his wisdom and wit. As a former director, Bob is an invaluable resource to the Board about all things related to Shadowcliff and more. Bob is also very active in creating partnerships for Shadowcliff, and probably planning a future Shadowcliff workshop as you read this.
Susan Miller
Susan Miller has spent more than 20 years guiding clarity and consensus for productive change. Most recently her expertise is leading companies through strategic planning, program development and process/workforce optimization. She leverages her leadership experience as a consultant, facilitator, strategist, and project manager working for and representing large national corporations, small businesses, non-profits, and start-ups, across multiple industries including education, manufacturing and the environment. Growing up in Wisconsin, she has a strong passion for the importance of accessibility to the outdoors. When she's not brainstorming innovative solutions with clients, Susan can often be found on a body of water or on her road bike. 
Carl Sniffen
Having previously served as Shadowcliff volunteer, Board member, executive director, manager, group leader, donor and guest, Carl has been a part of Shadowcliff for many years. Presently, Carl lives in Oregon with Barb, kids and grandkids and works at a local middle school and coaches middle and high school aged distance runners.
Kathy Baldwin - Executive Director
Kathy joins the Shadowcliff family as Executive Director with over 30 years professional experience in both corporate and nonprofit settings, most recently serving as resident caretaker for the Santa Fe Friends (Quaker) Meetinghouse in Santa Fe, New Mexico. Originally residing in Kansas City, Kathy also worked in varying capacities for 18 years at the Kansas City Academy, a small independent middle and high school. It was in her capacity as Head of School at the Academy that she first visited Shadowcliff over 10 years ago, returning several more times with students and faculty.
kathy@shadowcliff.org
Emily Cesca- General Manager
Born in Portland, OR Emily lived most of her life in California until she relocated to Puerto Vallarta, Mexico in 2015. With a professional background in finance, operations, and personnel management, she shifted gears and now spends her time teaching public and private yoga classes, leading workshops and trainings, helping to manage a yoga studio, and assisting with retreats. A nature girl at heart, Emily is at home outdoors, whether in the water, in the jungle, or in the mountains, and she loves to experience the natural beauty of Shadowcliff and the surrounding area of Grand Lake. This is Emily's third season at Shadowcliff, having filled the role of Assistant Manager in 2017 and 2018. She is excited to step into the General Manager position, and is incredibly grateful for this opportunity and for being able to call Shadowcliff her summer home. Aside from her work for Shadowcliff and teaching in Vallarta, Emily is currently undergoing a 900-hour Yoga Therapy certification.
emily@shadowcliff.org
Kate Trice - Assistant Manager
Kate has spent the last decade as a community organizer supporting projects that are important to her. In 2008 she founded the Denton Community Market 501c3, a local art and farmer's market in Denton, Texas. In 2017, she lived and worked as the Assistant Field Supervisor for a six-acre organic farm and ecovillage in the Indiana hill country. In 2018 she relocated to Hot Springs, Arkansas where she launched her own social media marketing company and helped local hot spring spas, breweries, and the farmer's market promote their products and services through graphic design on social networks. Her hobbies include photography, playing ukulele, poetry, yoga, camping, and hiking. She also enjoys traveling in her vintage trailer, a 1963 Shasta named "Dorothy."
kate@shadowcliff.org / @vintagetinyhouse
Jennifer Grubb - Maintenance Manager
Hey y'all! I'm Jennifer, a Marine Corps Veteran from Austin, Texas. I have a background and education in Electronics and have previously worked at Samsung and Intel. In my spare time I enjoy biking, swimming, knitting, gaming and photography. I have lived all across the United States including North Carolina, South Carolina, Florida, Washington, Oregon, Texas and my next stop is Grand Lake, Colorado! I am looking forward to this new journey with Shadowcliff!
Kayla Casteel- Office Assistant
Hello my name is Kayla! I came across Shadowcliff last year traveling from CO to OR and am excited to return! My hobbies include hiking, art, reading, yoga and all things outdoors. My background is in Exercise Science and I can't wait to explore more around Grand Lake, meet other travelers, and experience all the mountains have to offer.
Brandon Goober & Alanah Rempel- Compassionate Kitchen Cook & Lead Kitchen Assistant
Hey there! Alanah and Brandon here. We are no strangers to Grand Lake or to Shadowcliff.
Alanah was born and raised in Grand Lake and her grandparents started Shadowcliff. It was
certainly a great place for her to spend time as a kid. Brandon is a born and bread Southern
boy from Jesup, GA. Alanah worked at Shadowcliff in 2013 for part of the season on the
rotational staff. Then, in 2017, Alanah and Brandon worked at the lodge for the full season, as
the office manager and maintenance manager, respectively. They are excited to be returning
for another season in another capacity. Throughout the years they have worked on various
organic farms and have acquired a deep love for food and where it comes from. They have
spent the past year working seasonally at a lodge on Donner Summit in California, Brandon
as the head chef and Alanah as a "lodge assistant" which included working in all the various
areas of the lodge, but she especially enjoyed working in the kitchen. When Brandon's not in
the kitchen, you can usually find him lost in the forest or playing music. They both enjoy
backpacking and they completed the John Muir Trail in the Sierra Nevadas last fall. They are
both excited to be back in Grand Lake and looking forward to spending another season at
Shadowcliff.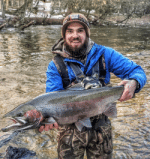 Travis Glynn - Rotating Staff
I am from Michigan, the Great Lakes State. I spent my childhood doing a lot of hunting, fishing and camping. These things instilled a deep appreciation for all things outdoors. Moreover an understanding of patience and self sustainability. I graduated from Central Michigan University with a degree in Statistics in 2013. Since that time I have been working on completing another long term goal: the hiking triple crown. Which includes completing in their entirety the Appalachian Trail, the Pacific Crest Trail, and the Continental Divide Trail. Nearly 8,000 miles in total. After completing the first two, it was hiking the CDT when I found Shadowcliff. Half way through the trail with a broken foot it was my refuge. Unable to hike any farther I spent the rest of my summer healing and being on staff at Shadowcliff. I am excited to return as staff for part of a second season and to continue, and hopefully complete, my triple crown endeavor in the 2019 season.
Mary Funston - Rotating Staff
My name is Mary Funston and I'm from Orlando, Florida. I graduated from Florida State University in 2015 with a Bachelor's degree in Psychology. After college, I participated in the AmeriCorps NCCC Southwest program based out of Denver, CO. I will be coming to Shadowcliff by way of Garmisch-Partenkirchen, Germany, where I have lived for the past year and a half. I will be coming back for my second season at Shadowcliff with my boyfriend, Mat Miller. We are very excited to be back. In my free time I enjoy hiking, running, reading, and exploring my surroundings. I have a passion for travel, the outdoors, and service and I am very pleased to have the opportunity to combine all of these once again during my time at Shadowcliff. Can't wait to meet you all!
Sam Jacques - Rotating Staff
Sam Jacques is an Alaskan by birth and a Californian by residency. He obtained a B.A. at the University of California, Santa Cruz in History and as a consequence is almost completely unemployable. Last summer he spent a week backpacking the John Muir Trail from Yosemite Valley to Mammoth and is excited to explore the Rocky Mountains. His other interests include reading, film and television, music, and learning about the food culture of the world one dish at a time.
Lindsey Jordan - Rotating Staff
I am from a small town in New Hampshire, right by the seacoast. I am taking a year off from Bard College, where I intend to major in written arts. I've spent the past 10 months living at home and working in an artisan coffee shop downtown, despite not drinking coffee myself. I like to read, write, and take my cat for walks in my free time.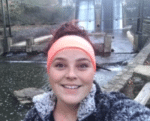 Megan Kennedy - Rotating Staff
Hello y'all! My name is Meg, my roots are planted in the Sunshine State however I have made a home of several of the southern states which has allowed me to hike part of the Appalachian Trail and explore the caves and waterfalls in places such as Tennessee, and Georgia. I am a college student working towards a Bachelors in Business Management and Entrepreneurship, once I'm finished with those studies I plan to branch out to Wildlife Conservation or Wilderness Medicine. Some favorite pastimes are hiking, fishing, yoga and reading anything I can get my hands on. I am blessed and ecstatic to start my adventure as a member of the Shadowcliff family for this season. I will be eager to learn, grow and assist in any way I can!
Mat Miller - Rotating Staff
I'm Mat Miller,born and raised in Port Orange, Florida. I graduated from Florida State University in 2015, with a Bachelors in English. After Graduation, I spent a year in AmeriCorps NCCC on the west coast. At the end of Summer 2017, I came to Shadowcliff with my girlfriend, Mary Funston, for the first time and we loved it. Since then, we have been living and working at a resort in Garmisch-Partenkirchen, Germany as tour guides. We are excited to be back at Shadowcliff!
Colton Peeters - Rotating Staff
Hello! I come from a small town in Wisconsin called Freedom that is surrounded by mainly farm fields aaaand more farm fields. After high school I decided to continue my education in the beautiful city of La Crosse, WI. This is where I have spent my last 3 1/2 years studying first health, physical, and adaptive education then switching to public/community health. However, I am taking time off of school currently to figure out what it is that I really want to do (it's not public/community health) and go travel and see the world as I've not been many places yet. I loooove people and learning about their experiences so I am exuberant to be coming to Shadowcliff to meet all sorts of wonderful and beautiful souls. Some of my hobbies include reading, exploring, drawing, longboarding, and music. Looking forward to meeting everyone!