I'm a mom, a lawyer, a professor. My children are 8 and 4. Our lives are generally pretty regularly overbooked – school, baseball, swimming, ballet, work travel, court. And we rely on our technology to keep life organized, solve last minute problems, fill in the gaps between things that.must.be.done. There's plenty of research out there about it, but our lives are a giant shining cliché about Modern American Life.
Finding Shadowcliff
We ended up at Shadowcliff's Critters, Creeks, & Crows in 2016 in part because a friend recommended it, but in even bigger part because I felt guilty. We had lived in the Mountain West for 2 years and had done almost nothing to explore the natural gifts of the region. I was also having a difficult academic year and I hadn't been present much – physically, yes, but psychically, not really. Critters, Creeks, & Crows provided me an easy way to carve out time to be still, to be with the children, to watch them learn. It allowed all of us a chance to connect, to be curious together, and to have fun in one of the most beautiful locations we could ever have imagined.
We love Shadowcliff. From the moment we climbed the steps onto the wrap around porch, we were hooked. The view is extraordinary. For a newly minted 4 year-old (her birthday was the day before we arrived) and a very active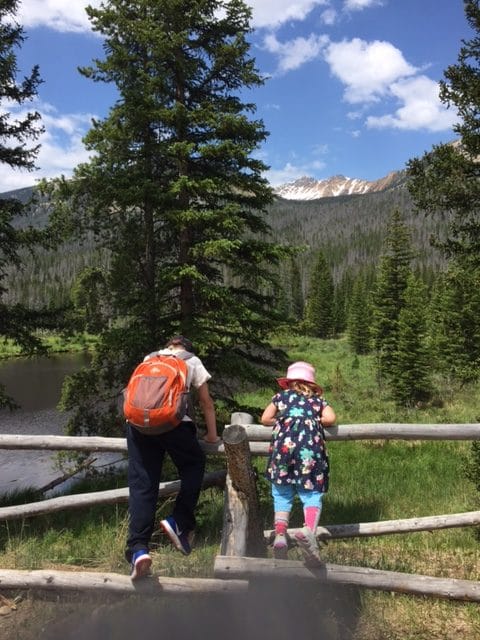 7 year old it was a great place to run and play tag. The great room offered plenty of non-screen distractions, from books to games. Our room faced the North Inlet Stream and, despite the evening chill, I never closed our window so the children could listen to the sounds of the water as they slept.
The Magic of Family Camp
Critters, Creeks, & Crows itself was a gift for all of us. We learned more than I can say about the ecology of Rocky Mountain National Park. The children had the chance to measure the turbidity of Grand Lake. There was fly fishing and bug identification and star gazing, marshmallow roasting and fire sitting and storytelling. To be sure, I'd brought the screens with us just in case, but over the course of the 3.5 days we shared with the other families attending camp, the screens were forgotten. Our days were full but not exhausting, just enough to land every one of a us a good night's sleep but not so much that we felt shuttled from event to event with no chance to slow down or enjoy what was happening around us.
Most importantly, the children and I were together, in body and in spirit, learning together, exploring together, playing and being still. Over those 3.5 days we connected in ways we might never have had the opportunity to if we had remained in the structure of our busy lives. I watched my children, who have no lack of imagination or curiosity on a regular day, immerse themselves in their natural world and cut loose with questions and stories and made up games running around the property. I could not have asked for more for any of us.
A year later when Shadowcliff announced Critters, Creeks, & Crows 2017, I hesitated asking the children if they would like to return. I wanted to return, but what if my enjoyment of that time was mine alone? What if our busy lives had erased those memories for them? I need not have worried. There was a resounding YES! when I brought up the topic. So, we'll be there again this June making the most of our time together and continuing our journey.
Danielle runs the Civil Legal Services Clinic at the University of Wyoming. She's a city person raised in the suburbs who is finding ways to embrace living in the mountains. She loves a good campfire but will always pass on the marshmallow.